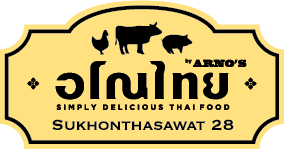 ร้านอโณไทย สาขาสุคนธสวัสดิ์ ซอย 28 (Arno Thai by Arno's)
ร้านอาหารสไตล์ไทยสตรีทฟู๊ด และเป็นร้านอาหารในเครือของ Arno's Group
จากการตอบรับอย่างล้มหลามและชื่อเสียงด้านเนื้อดรายเอจคุณภาพเยี่ยม
เบอร์เกอร์เนื้อพรีเมี่ยม ที่มีชื่อเสียงด้านรสชาติที่เป็นเอกลักษณ์
ในราคาที่ทุกคนสามารถทานได้บ่อยๆ

Arno's Group จึงตัดสินใจ เปิดร้านที่มีชื่อว่า "อโณไทย"
ซึ่งเป็นแนวอาหารไทยที่ทุกคนคุ้นเคย อาทิ ผัดกะเพรา ก๋วยเตี๋ยว เป็นต้น
เราใช้เนื้อคุณภาพเดียวกับร้าน Arno's ทุกสาขา
น้ำซุปก๋วยเตี๋ยวมีความเข้มข้น ซึ่งทางร้านเราไม่ใส่เลือดลงไปในน้ำซุป
แต่มีความเข้มข้นเพราะมาจากการเคี่ยวเนื้อเป็นเวลาหลายชั่วโมง
อีกทั้งเนื้อสันในที่ผัดกะเพรา ก็เป็นเนื้อดรายเอจคุณภาพเดียวกับที่เราใช้ทำสเต๊ก
จึงทำให้ทุกจานของร้าน "อโณไทย"
มีความโดดเด่นทั้งในรสชาติ คุณภาพ ในราคาสบายกระเป๋า
---
After Arno's Butcher & Eatery and Arno's Burgers in Naradhiwat Road.
In Bangokok, a new Arno's arrives in Sukhonthasawat 28 with a mix of new concepts!
Maintaining simplicity and his core philosophy being 
"To have the best meat at best prices",
Arno Thai – Sukhonthasawat 28 (Thai Food: Noodles and Kaprao)
will offer the same quality of beef and well know burgers.
As in our flagship a nice selection wines will be available to accompany your meatilicious experience.
Remember you can also but the meat and cook it at home!
Address

456 Soi Sukhonthasawat 28, Ladprao, Bangkok 10230

Contact
Tel. +66 (0) 2 004 1982
Email: arnothai.sukhonthasawat@arnosgroup.com
Social Media
  arnothai.sukhonthasawat
  arnosgroup
  @arnosgroup
Open Hours

11.00 – 20.00 hrs. Everyday

Parking

Free parking at the parking lot of our restaurant