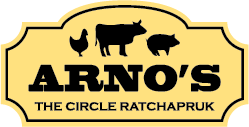 After Arno's Butcher & Eatery and Arno's Burgers in Naradhiwat Road.,
a new Arno's arrives in The Circle Ratchapruk with a mix of concepts! Maintaining simplicity and his core philosophy is
"To have the best meat at best prices",
Arno's Steaks & Burgers will offer the same quality of dry-aged beef and well know burgers.
As in our flagship, nice selection beers and wines will be available to accompany your meatilicious experience.
Keeping our well known & high-quality meat (ONLY DRY AGED BEEF)
we serve amazing burgers by simply giving the juicy ground meat the main character.
Daily home-made soft buns and fresh ingredients are key to making our burgers great!
You can tell us, How would you like your burgers?
In our venue has a huge Showcase Refrigerated for Meats that you can order, we cook.
We will cook the beef only these 2 levels of doneness are RARE and MEDIUM RARE
and serve on a hot plate or cool plate.
Arno's The Circle Ratchapruk has 58 seats with a variety of atmosphere, from an open aired dining experience on the wooden deck
to the air-conditioned industrial style dining room. The small space has the trendy charm of an all-American diner,
with an open kitchen dominated by sizzling grills.
Steaks, Burgers, Wines, Beers
Come and try it! When you order, we cook!
Remember you can also buy meat and cook it at home!
Enjoy your meal! Cheers!
Address
The Circle Ratchapruk (near Drop Off 1 area)
39 Thanon Ratchaphruek, Taling Chan, Khet Taling Chan, Bangkok 10170
Contact

Tel. +66(0)2 115 9447     Mob. +66(0)81 146 9784.  Email: circle@arnosgroup.com

Social Media
  arnos.thecircle
  arnosgroup
  @arnosgroup
Open Hours

11.00 – 22.00 hrs. Everyday (Last Order 21.00 hrs.)

Parking
The parking lot at The Circle Ratchapruk

– First 3 hours: Free parking

– Spend 1,500 Baht/Bill with the stamped from security counter can park 6 hours for free